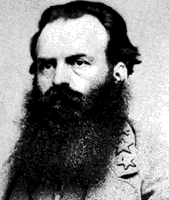 VITAL STATISTICS
BORN: 1823 in Madison City, VA.
DIED: 1895 in Orange City, VA.
CAMPAIGNS: First Bull Run, Seven Pines, Seven Days, Second Bull Run,
South Mountain, Antietam, Federicksburg, Gettysburg and Richmond.
HIGHEST RANK ACHIEVED: Major General.
BIOGRAPHY
James Lawson Kemper was born on June 11, 1823, in Madison County, Virginia. Having studied at the Virginia Military Institute, he graduated from Washington College in 1842, then studied law. He served in the Mexican War, and worked to improve the state militia while he served in the state legislature. Largely due to his efforts, the Virginia troops were basically prepared for war when the Civil War began. After the start of the war, Kemper joined the Confederate forces, rising through the ranks while fighting in major battles from the Bull Run (First) to Gettysburg. Promoted to brigadier general on June 3, 1862, he participated in the Battle of Seven Pines and the Seven Days' Campaign. Kemper also took part in the Second Battle of Bull Run, and at South Mountain, Antietam, and Fredericksburg. At Gettysburg, he was wounded and taken prisoner, but was exchanged in 1864 and given a staff position, he was promoted to major general on September 19, 1864 and was assigned to command the defense of Richmond after the evacuation of the Confederate capital. When the Confederacy surrendered, Kemper advised the people of Virginia to accept the end of the war and focus on rebuilding the state. Returning to his law practice, he was elected governor, serving from 1874 to 1877, and retired when his term ended. Kemper died in Orange County, Virginia, on April 7, 1895.