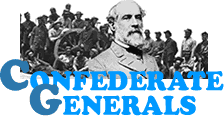 GENERAL ALBERT SIDNEY JOHNSTON, CSA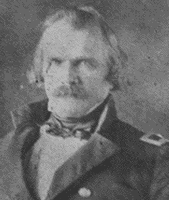 VITAL STATISTICS
BORN: 1803 in Washington, KY.
DIED: 1862 in Peach Orchard (Battle of Shiloh).
CAMPAIGNS: Pittsburg Landing and Shiloh.
HIGHEST RANK ACHIEVED: General.
BIOGRAPHY
Albert Sidney Johnston was born in Washington, Kentucky, on February 2, 1803. Although he was born in Kentucky, he thought of himself as a Texan. Johnston graduated from West Point in 1826, and served with distinction in the Black Hawk and Mexican Wars. He resigned from the US military after Texas seceded, and was placed in charge of the Confederate Department No. 2 by his close friend, Confederate President Jefferson Davis. Given the rank of full general, he was second only to Samuel Cooper in rank and seniority. After a series of unsuccessful operations in Kentucky and Tennessee, he began planning a bold maneuver. In April of 1862, he led his troops in a surprise attack on Union troops. This began the Battle of Shiloh. During the battle, Johnston was shot in the right leg by a stray minié bullet. He bled to death, on April 6, 1862.