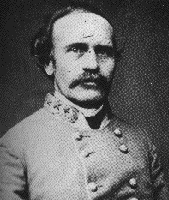 VITAL STATISTICS
BORN: 1817 in Belmont County, OH.
DIED: 1880 in Brighton, IL.
CAMPAIGNS: Fort Donelson, Shiloh, Kentucky, Stone's River,
Chickamauga, Knoxville, Bermuda Hundred and Crater.
HIGHEST RANK ACHIEVED: Major General.
BIOGRAPHY
Bushrod Rust Johnson was born on October 7, 1817, in Belmont County, Ohio. He graduated from West Point in 1840, and fought in the Seminole and Mexican Wars. Once the Civil War began, he joined the Confederate forces as a colonel of engineers. Promoted to brigadier general on January 24, 1862, he took part in several engagements and battles that year. At Chickamauga, he helped turn the battle around for the Confederacy. He was promoted to major general on May 21, 1864. After he was paroled at Appomattox, Johnson served as chancellor of the University of Nashville. Since the school was low on funds, it had to close, and Johnson became a farmer in Macoupin County, Illinois. His war injuries and hardships made him a semi-invalid, and he died on his farm near Brighton, on September 12, 1880.