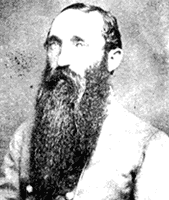 VITAL STATISTICS
BORN: 1830 in Cabell County,VA.
DIED: 1864 in Cloyd's Mountain, VA.
CAMPAIGNS: Gettysburg and Cloyd's Mountain.
HIGHEST RANK ACHIEVED: Brigadier General.
BIOGRAPHY
Albert Gallatin Jenkins was born in Cabell County, Virginia, on November 10, 1830. He studied at Jefferson College, in Pennsylvania and Harvard Law School. Before the Civil War, he worked as a lawyer and politician. When the Civil War began, he joined Virginia's Confederate forces. Appointed a brigadier general on August 5, 1862, he took part in the Gettysburg Campaign, and was wounded at the Battle of Gettysburg. In the engagement at Cloyd's Mountain, Jenkins was wounded. Although a Union surgeon tried to save his life by amputating his arm, Jenkins never recovered, and died on May 21, 1864.