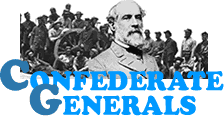 GENERAL JOHN DANIEL IMBODEN, CSA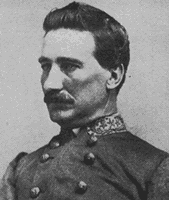 VITAL STATISTICS
BORN: 1823 in Staunton,VA.
DIED: 1895 in Damascus, VA.
CAMPAIGNS: Harper's Ferry, First Bull Run, Shenandoah Valley and Gettysburg.
HIGHEST RANK ACHIEVED: Brigadier General.
BIOGRAPHY
John Daniel Imboden was born near Staunton, Virginia, on February 16, 1823. he attended Washington College for two years, then taught school and set up a legal practice in Staunton. Although he served in the state legislature for two terms, he could not get elected as a delegate to the Virginia secession convention. Imboden organized the Staunton Artillery and, after the state seceded, led the troops as they took the US arsenal at Harpers Ferry. Imboden fought at the First Battle of Bull Run, and organizes a cavalry command in 1862 named the 1st Partisan Rangers. The 1st Partisan Rangers fought with Maj. Gen. Thomas J. "Stonewall" Jackson in his Shenandoah Valley Campaign of 1862. Imboden was appointed brigadier general to rank from January 28, 1863. He cut the Baltimore & Ohio Railroad lines and captured livestock from western Virginia in the "Imboden Raid"; and took part in the Gettysburg Campaign. He led the cavalry accompanying Lt. Gen. Jubal A. Early in his operations against Maj. Gen. Philip H. Sheridan in Sheridan's Shenandoah Valley Campaign. Late in 1864, Imboden became ill from typhoid fever, and ended the Civil War on prison duty. After the war, he worked to develop Virginia's mineral and mining resources. Imboden died on August 15, 1895, in Damascus, Virginia.