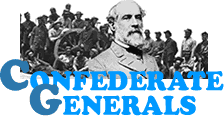 GENERAL THOMAS JONATHAN
"STONEWALL" JACKSON, CSA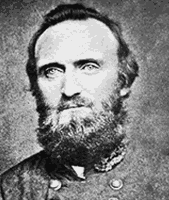 VITAL STATISTICS
BORN: 1824 in Clarksburg,VA.
DIED: 1863 in Near Chancellorsville.
CAMPAIGNS: First Bull Run, Shenandoah Valley, Kernstown, Peninsula, Front Royal, Cross Keys, Port Republic, Seven Pines, Seven Days, Gaines Mill, White Oak Swamp, Groveton, Second Bull Run, Harper's Ferry, Antietam and Fredericksburg.
HIGHEST RANK ACHIEVED: Lieutenant General.
BIOGRAPHY
Thomas Jonathan Jackson was born on January 21, 1824, in Clarksburg, Virginia. He was of scotch-Irish descent, and was orphaned at a young age. He graduated from the US Military Academy in 1846, and fought in the Mexico. Brevetted a major, he was assigned to forts in New York and Florida. He taught artillery and natural philosophy at Virginia Military Institute in 1851, and soon resigned from the army. In December of 1859, Jackson led the VMI Cadet Corps at the hanging of John Brown. A few days after the Civil War began, Jackson was ordered to Richmond, Virginia. Within a few weeks, he was promoted to brigadier general, as of June 17, 1861. In the First Battle of Bull Run, Brig. Gen. Barnard E. Bee said of him, "there is Jackson standing like a stone wall." Thus, Jackson acquired him nickname, "Stonewall." His battle reputation earned him a promotion to major general on October 7, 1861. In November of 1861, he was given command of the Shenandoah Valley, in the Department of Northern Virginia. While he was criticized for having assigned troops to outpost duty in cold weather in January of 1862, his aggressive style and military ability enshrined him as a hero among the Confederates. His offensive stance at Kernstown caused him to lose many troops, but he succeeded in diverting three Union armies. By keeping Union troops occupied in western Virginia, Jackson was able to reduce the forces available for Union Maj. Gen. George B. McClellan's advance on Richmond, Virginia. Working with Gen. Robert E. Lee, he planned an attack on Union Maj. Gen. Nathaniel P. Banks' troops. Jackson wished to prevent them from joining Maj. Gen. Irvin McDowell's attempts to reinforce Major General McClellan's forces. In May of 1862, with permission from General Lee, Jackson ordered an attack on Brig. Gen. Banks at Front Royal. He went on to defeat Union troops at Cross Keys and Port Republic. Jackson's maneuvers in the Valley Campaign are among the best examples of excellent military strategy and deployment. When General Lee reorganized the Confederate forces in May of 1862, Jackson and his command were transferred to the Richmond, Virginia area. They arrived in time to take part in the Seven Days' Campaign. Jackson was unable to follow through on Lee's plan to attack Union forces at Mechanicsville, but served effectively at Gaines' Mill. At White Oak's Swamp, Jackson was so physically exhausted that he could not direct his troops well, and they failed to follow Lee's orders to cross the swamp and corner Union Maj. Gen. McClellan. Jackson fought in several small engagements, then joined Lee again to plan an attack on Maj. Gen. John Pope's troops at Manassas Junction. After Jackson succeeded in destroying Pope's base in August of 1862, Jackson and his troops went to Groveton to regroup. Jackson's strategic skills allowed him to help drive Pope' forces to Washington after the Union defeat at the Second Battle of Bull Run. In September of 1862, Jackson took part in the capture of Harper's Ferry. Moving on quickly to the Battle of Antietam, Jackson's troops helped support Lee in his struggles with the large Union force. Promoted to lieutenant general on October 10, 1862, Jackson was placed in command of the II Corps in the Army of Northern Virginia. In December of 1862, Jackson took part in the Confederate victory in the Battle of Fredericksburg. A devoted family man, Jackson took a leave of absence during the winter of 1862-63 in order to visit his wife and infant daughter for the first time since the war had begun. His returned to duty in April of 1863, when he received word that Union troops were crossing the Rappahannock River on both sides of Fredericksburg. He led some of his troops to stop Union Maj. Gen. Joseph Hooker's progress down the Rappahannock River. By May, the Union troops were forced back to Chancellorsville. On May 2, Jackson succeeded in routing the Union's XI Corps. This was one of the most dramatic Confederate victories of the Civil War. That evening, when Jackson returned from a reconnoitering mission, his own troops mistook him and his party for Union cavalry, and shot him. Carried to a nearby home, his left arm was amputated, and he seemed to recover somewhat. During the night, however, he became sicker, and developed pneumonia. His death, on May 10, 1863, only about 25 months into the war, was a major blow to the Confederate military.