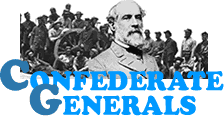 GENERAL BENJAMIN GRUBB HUMPHREYS, CSA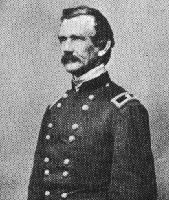 VITAL STATISTICS
BORN: 1808 in Claiborne County, MS.
DIED: 1882 in Leflore County, MS.
CAMPAIGNS: Seven Days, Antietam, Fredericksburg, Chancellorsville, Gettysburg (?), Chickamauga, Knoxville, Wilderness, Spotsylvania, Cold Harbor.
HIGHEST RANK ACHIEVED: Brigadier General.
BIOGRAPHY
Benjamin Grubb Humphreys was born in Clairborne County, Mississippi, on August 24 or 26, 1808. He was one of 16 children, and went to school in Kentucky and New Jersey. Entering the US Military Academy in 1825, he and a number of other cadets were dismissed after a Christmas Eve riot in 1826. Humphreys returned to Mississippi, studied law, worked as a farmer and served in both houses of the state legislature. He opposed secession, but supported the Confederacy by raising a company of infantry. In May of 1861, he was commissioned captain of the 21st Mississippi, later became colonel of the regiment and commanded it until the summer of 1863. As part of Brig. Gen. William Barksdale's brigade, he led the 21st Mississippi in the Seven Days', Antietam, Fredericksburg and Chancellorsville Campaigns. At Gettysburg, Brig. Gen. Barksdale was mortally wounded, and Humphreys took over command of the brigade. Promoted to brigadier general as of August 12, 1863, he took his regiment west, fighting at Chickamauga and Knoxville. Humphreys participated in the battles of the Wilderness, Spotsylvania and Cold Harbor. In August of 1864, Humphreys and his troops were sent to the Shenandoah Valley to reinforce the II Corps, under Lt. Gen. Jubal A. Early. Wounded in September, Humphreys was eventually unable to remain in field service. At the end of the Civil War, Humphreys was leading a military district in Mississippi. He was pardoned by President Andrew Johnson, and elected Mississippi's first post-war governor. He was ejected from office by the federal military, less than three years after his inauguration. He spent the rest of his years as an insurance agent and planter, and died on his plantation in Leflore County, Mississippi, on December 20, 1882.