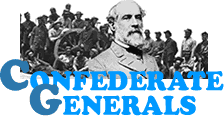 GENERAL BENJAMIN HUGER, CSA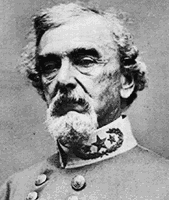 VITAL STATISTICS
BORN: 1805 in Charleston, SC.
DIED: 1877 in Charleston, SC.
CAMPAIGNS: Norfolk, Roanoke Island, Seven Pines,
White Oak Swamp and Malvern Hill.
HIGHEST RANK ACHIEVED: Major General.
BIOGRAPHY
Benjamin Huger was born in Charleston, South Carolina, on November 22, 1805. His family had a long-standing military reputation, and young Huger himself graduated from West Point in 1825. He was assigned to the artillery, but spent three years working on topographical duty, then became an ordinance officer. For about twelve years, he commanded the armory at Fort Monroe, in Virginia. Huger was also part of the War Department ordnance board, and spent a year studying methods of Continental warfare in Europe. In the Mexican War, Huger became chief of ordnance to Winfield Scott. He received several brevets for his service in three campaigns. Upon his return to the US in 1848, Huger served on a board to develop new artillery tactics, and then was superintendent of armories in Virginia, Maryland and other states of the South. In 1861, he joined the Confederate army, and was made a brigadier general on June 17, 1861. Less than four months later, he was promoted to major general. Huger was placed in command of the Department of Norfolk, and soon declared that his district was held too weakly to be effective against Union forces. In May of 1862, when Union troops were approaching, Huger ordered the destruction of the city's works and naval yard, had the CSS "Virginia" dismantled and evacuated the area. While in command of Roanoke Island, North Carolina, he failed to reinforce the troops, and they had to surrender to the Union expeditionary force. Although the Confederate Congress investigated Huger's part in this defeat, Confederate President Jefferson Davis gave him divisional command under Gen. Joseph E. Johnston. Huger led the division at Seven Pines and in several battles in the Seven Days' Campaign. He was relieved of duty on July 12, 1862, because of his lackluster leadership in battles such as White Oak Swamp and Malvern Hill. Placed on artillery and ordnance-inspection duty, he served in the Western theater and in the Trans-Mississippi Department. By the end of the war, he was in poor health. He retired from the military and worked as a farmer, first in North Carolina, then in Virginia. He returned to his hometown of Charleston, South Carolina, at the end of his life, and died there, on December 7, 1877.