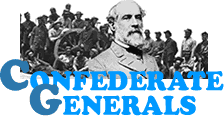 GENERAL WILLIAM JOSEPH HARDEE, CSA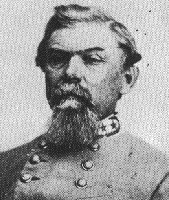 VITAL STATISTICS
BORN: 1815 in Camden County, GA.
DIED: 1873 in Virginia
CAMPAIGNS: Corinth, Shiloh, Kentucky, Chickamauga, Lookout Mountain,
Missionary Ridge, Atlanta, Savannah, Charleston, Columbia, and Bentonville.
HIGHEST RANK ACHIEVED: Leuitenant General.
BIOGRAPHY
William Joseph Hardee was born on October 12, 1815, in Camden County, Georgia. He graduated from West Point in 1838, and established a career in the US Army. In the 1850s, he wrote "Rifle and Light Infantry Tactics," which became a military classical. In 1861, he resigned to accept a commission in the Confederate Army as a brigadier general. Promoted to major general on October 7, 1861, he organized a brigade in Arkansas. Hardee operated in Arkansas and central Kentucky until March of 1862, when he joined the Army of Mississippi at Corinth. He fought well at Shiloh and in the Kentucky Campaign, and was affectionately called "Old Reliable." Hardee was again promoted, to lieutenant general, on October 10, 1862. Although he did not enjoy working under Gen. Braxton Bragg, he remained under his command, fighting through Chickamauga, Lookout Mountain and Missionary Ridge. After Bragg resigned and Gen. Joseph E. Johnston took over, Hardee continued in command of his corps through the Atlanta Campaign. When Gen. John Bell Hood replaced Johnston, however, Hardee's concerns about Hood's fitness for such a position led him to ask for a transfer. Assigned to the Department of South Carolina, Georgia and Florida in September of 1864, Hardee worked to defend Savannah against Union Maj. Gen. William T. Sherman's attack. He was forced out of Savannah, then had to surrender Charleston and Columbia in the Carolinas Campaign. His corps was joined with other troops to form the Army of Tennessee. Hardee's last battle was at Bentonville, North Carolina. He surrendered at Greensboro, on April 26, 1865. After the Civil War, he settled in Selma, Alabama, and became a planter. Hardee died on November 6, 1873, while traveling in Virginia.