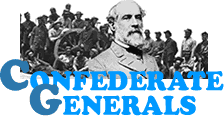 GENERAL WADE HAMPTON, CSA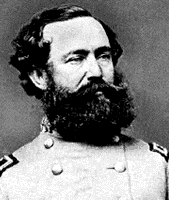 VITAL STATISTICS
BORN: 1818 in Charleston, SC.
DIED: 1902 in Columbia, SC.
CAMPAIGNS: First Bull Run, Peninsula, Seven Pines, Antietam, Chambersburg, Gettysburg, Wilderness, Petersburg.
HIGHEST RANK ACHIEVED: Lieutenant General.
BIOGRAPHY
Wade Hampton was born in Charleston, South Carolina, on March 28, 1818. He graduated from South Carolina College in 1826 and studied law, but he did not practice. He made a financial success of his family's plantations in South Carolina and Mississippi. Hampton felt that the states of the South had the right to secede, but he questioned the institution of slavery and was concerned about the economic consequences of secession. When South Carolina seceded from the Union, Hampton raised a command of cavalry, which was known as the Hampton Legion. Wounded at the First Battle of Bull Run, Hampton fought in most of the Peninsula Campaign. He was commissioned a brigadier general on May 23, 1862, and was wounded again at the Battle of Seven Pines. Hampton fought in the Battle of Antietam, the Chambersburg raid, and the Battle of Gettysburg. Wounded a third time at Gettysburg, he was promoted to major general to date from August 3, 1863. After the Battle of the Wilderness, he became commander of the cavalry corps, and took part in the Petersburg Campaign. Hampton trained the cavalry troops to fight on foot when the Confederacy faced a shortage of horses. He was promoted to lieutenant general on February 15, 1865, one of only three Confederate lieutenant generals to reach that rank without formal military education. Hampton led troops to support Gen. Joseph E. Johnston's retreat through South Carolina. Since he and his troops were not actually under Johnston's command, Hampton did not have to surrender. After the Civil War, Hampton returned to his family's estates, which were ruined, and was able to restore them to their precious financial success. Politically, he strongly opposed the Radical Republicans, and was elected governor of South Carolina in 1876 and 1878. He was then elected to the Senate, in which he served until 1891. When the Populists defeated Hampton's "Old South" party, Hampton ended his political career. He died on April 11, 1902, in Columbia, South Carolina.