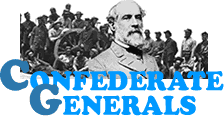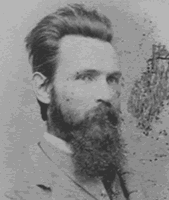 VITAL STATISTICS
BORN: 1828 in Lawrence City, AL.
DIED: 1864 in Petersburg.
CAMPAIGNS: Fort Donelson, Vicksburg, Chickamauga, Wilderness,
Spotsylvania, Cold Harbor and Petersburg.
HIGHEST RANK ACHIEVED: Brigadier General.
BIOGRAPHY
John Gregg was born in Lawrence County, Alabama, on September 28, 1828. He graduated from La Grange College and studied law in Tuscumbia. After moving to Fairfield, Texas, he was elected a district judge, and was a member of the state secession convention. Gregg served on the Provisional Confederate Congress until after the First Battle of Bull Run in July of 1861. He returned to Texas, and joined the state Confederate forces. The regiment was captured in the surrender of Fort Donelson, but Gregg was promoted to brigadier general on August 29, 1862, after he was exchanged. He participated in the Vicksburg Campaign, and was part of the Confederate victory at Chickamauga. Gregg was seriously wounded at Chickamauga, but recovered and took command of Lt. Gen. John B. Hood's Texas Brigade. Gregg led the Hood's Texas Brigade at the Battles of the Wilderness, Spotsylvania, Cold Harbor and Petersburg. He was also active in the Petersburg Campaign. Gregg was killed on October 7, 1864, while he was leading a counterattack on the Darbytown Road. He was buried in Aberdeen, Mississippi.