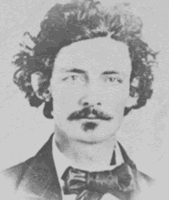 VITAL STATISTICS
BORN: 1831 in Copiah County, MS.
DIED: 1864 in Battle of Franklin.
CAMPAIGNS: Fort Donelson, Vicksburg, Chickamauga, Chattanooga,
Missionary Ridge, Franklin and Nashville.
HIGHEST RANK ACHIEVED: Brigadier General.
BIOGRAPHY
Hiram Bronson Granbury was born on March 1, 1831, in Copiah County, Mississippi. He was educated at Oakland College, in Rodney, Mississippi, then moved to Waco, Texas in the 1850s. Granbury became an attorney and official in county government. When Texas seceded from the Union, Granbury organized the Waco Guards, and was sent to Kentucky and Tennessee. Captured in the fall of Fort Donelson in 1862, he was exchanged and returned to Confederate duty. Granbury took part in the Vicksburg Campaign, the Battle of Chickamauga, the Siege of Chattanooga and the Battle of Missionary Ridge. Appointed a brigadier general on February 29, 1864, he led several Texas regiments through engagements to Atlanta and in the Franklin and Nashville Campaign. Granbury died in the Battle of Franklin on November 30, 1864, one of six Confederate generals to die as a result of a battle.