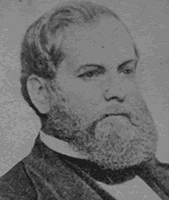 VITAL STATISTICS
BORN: 1810 in Fairfield, SC.
DIED: 1862 in Shiloh.
CAMPAIGNS: Fort Pickens, Corinth, Shiloh,.
HIGHEST RANK ACHIEVED: Brigadier General.
BIOGRAPHY
Adley Hogan Gladden was born on October 28, 1810, in Fairfield, South Carolina. He became a cotton broker and postmaster in Columbia, South Carolina, and volunteered in the Seminole and Mexican Wars. When the Civil War began, Gladden was living in New Orleans, Louisiana. After holding brief military positions and taking part in the Louisiana secession convention, he spent the rest of the war serving under Gen. Braxton Bragg. He was appointed brigadier general on September 30, 1861. Gladden was present at Pensacola; the Siege of Fort Pickens; the occupation of Corinth, Mississippi in 1862 and the Battle of Shiloh. Severely wounded at the Battle of Shiloh, he died on the field after his arm was amputated, on April 12, 1862.