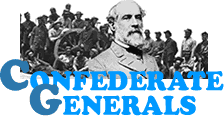 GENERAL RANDALL LEE GIBSON, CSA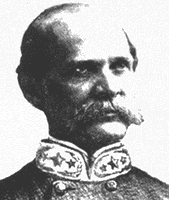 VITAL STATISTICS
BORN: 1832 in Versaille, KY.
DIED: 1892 in Hot Springs, ARK.
CAMPAIGNS: Shiloh, Kentucky, Chicamauga, Atlanta, Franklin, Nashville and Mobile.
HIGHEST RANK ACHIEVED: Brigadier General.
BIOGRAPHY
Randall Lee Gibson was born near Versailles, Kentucky, on September 10, 1832. He was educated on his parents' plantation in Louisiana, then attended Yale. After graduating from Yale in 1853, he studied law in New Orleans, traveled in Europe for a few years and was US embassy attaché in Madrid for a brief period. Gibson returned to the United States shortly before the Civil War began. When Louisiana seceded from the Union, Gibson became an aide to Gov. Thomas O. Moore, and joined the 1st Louisiana Artillery in March of 1861. As colonel of the 13th Louisiana Infantry, he fought at the Battle of Shiloh. With the Army of Tennessee, he took part in the 1862 Kentucky Campaign and the Battle of Chickamauga. After being promoted to brigadier general on January 11, 1864, he fought at the Battle of Atlanta and the Franklin and Nashville Campaign; then was assigned to the defense of Mobile, Alabama. He inspired his troops to hold Spanish Fort, which was under siege, until the last moment, after which they escaped at night on March 8, 1865. This was his last service in the Civil War effort. After the Civil War, Gibson practiced law, and was elected to the US House of Representatives for four terms and the US Senate for two terms. He died on December 15, 1892, in Hot Springs, Arkansas, in the midst of his second term in the US Senate.