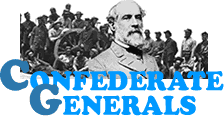 GENERAL DANIEL MARSH FROST, CSA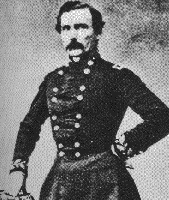 VITAL STATISTICS
BORN: 1823 in Schenectady, NY.
DIED: 1900 in St. Louis, MO.
CAMPAIGNS: Prairie Grove .
HIGHEST RANK ACHIEVED: Brigadier General.
BIOGRAPHY
Daniel Marsh Frost as born in Schenectady County, New York, on August 9, 1823. After graduating from the US Military Academy at West Point in 1844, he served in the Mexican War and was brevetted for gallantry. He spent a year of duty in Europe, and resigned from the army in 1853. Upon his return to the United States, he moved to St. Louis, Missouri, and took part in a planning-mill business. He went on to become a state legislator and member of the Board of Visitors at West Point. By the time the Civil War began, Frost was a brigadier general in the state militia. He decided to join the secessionist cause, following the philosophy of Missouri's governor, Clairborne F. Jackson. While he was still the militia commander at St. Louis, Frost met secretly with Jackson and other secessionists to organize a militia camp, named Camp Jackson, outside the city. He was accused of taking part in a scheme to capture the US arsenal at St. Louis while he trained militiamen at Camp Jackson. Although he denied involvement, Union intelligence later obtained a letter which revealed that Frost was an active participant in the plot. All the occupants of Camp Jackson, including Frost, were forced to surrender the camp to Union Gen. Nathaniel Lyon, but Frost was paroled and then exchanged. Appointed a brigadier general in the Confederate armed forces on March 3, 1862, he later served as inspector general for Gen. Braxton Bragg. Frost took part in the Battle of Prairie Grove, serving under Maj. Gen. Thomas C. Hindman. In 1863, his wife was forced from their home in St. Louis because of the family's Confederate sympathies. After this, Frost moved with his family to Canada, and returned to Missouri in 1865. Frost became a farmer on his land near St. Louis, and died there on October 29, 1900.