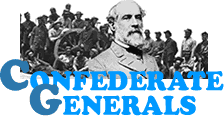 GENERAL NATHAN BEDFORD FORREST, CSA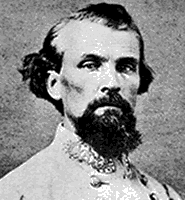 VITAL STATISTICS
BORN: 1821 in Bedford City, TN.
DIED: 1877 in Memphis, TN.
CAMPAIGNS: Shiloh and Brice's Cross Roads .
HIGHEST RANK ACHIEVED: Lietenant General.
BIOGRAPHY
Nathan Bedford Forrest was born in Bedford County, Tennessee on July 13, 1821, the son of a poor blacksmith. At the age of 16, young Forrest was forced to take responsibility for the large family. By 1861, he was a financially successful slave trader and planter. He enlisted in the Confederate army as a private in 1861. On July 21, 1862, he was appointed a brigadier general; and was made a major general on December 4, 1863. Although he lacked a military education, he was a skilled tactician with a true understanding of strategy. He articulated his military philosophy as the following: "war means fightin' and fightin' means killin'." Forrest became the most feared cavalry leader in the Confederacy. His actions at Fort Donelson and Shiloh helped him advance early in the Civil War. This advancement allowed him to develop raiding strategies that made his cavalry an efficient strike force. On April 12, 1864, he and his troops captured Fort Pillow, a Union post in Tennessee. Of the 570 troops in the fort, a little less than half were black. Of the Union troops, 231 were killed, 100 were wounded and 226 were taken prisoner, while the Confederates lost 14 dead and 86 wounded. The black troops were killed in large numbers, with only 58 out of 262 taken prisoner. Forrest reportedly explained: "it is hoped that these facts will demonstrate ... that Negro soldiers cannot cope with Southerners." The events that took place at Fort Pillow remain in dispute. The Union claimed that a large number of Union troops were killed after they had surrendered the fort, making the Fort Pillow incident a shocking massacre. The Confederacy provided other explanations for the casualties, including the unusually high number of black casualties. Congress' Committee on the Conduct of the War investigated the incident, but evidence remains split between Union accusations and Confederate explanations. It is highly unlikely, however, that all the Union casualties at Fort Pillow were necessary for Forrest and his troops to simply take the garrison; and that the Confederate forces were entirely without malice. Whether the bulk of the casualties occurred before or after the surrender of the fort, however, has not been definitively established. After the Civil War, Forrest became a farmer and businessman. He died on October 29, 1877, in Memphis, Tennessee.