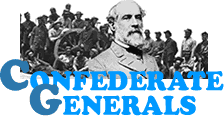 GENERAL JOHN BUCHANAN FLOYD, CSA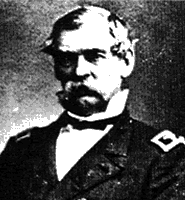 VITAL STATISTICS
BORN: 1806 in Montgomery City, VA.
DIED: 1863 in Abingdon,VA.
CAMPAIGNS: Cross Lanes, Carnifix Ferry, Gauley Bridge and Fort Donelson .
HIGHEST RANK ACHIEVED: Major General (Militia).
BIOGRAPHY
John Buchanan Floyd was born in Montgomery County, Virginia, on June 1, 1806. He studied at South Carolina College, and became a lawyer and a planter. In 1847, he was elected to the house of delegates, then became governor of Virginia in 1848. Appointed Secretary of War under President James Buchanan in 1857, he resigned in 1860 in reaction to the President's policy at Charleston Harbor. Floyd was later accused of having helped the Confederacy obtain arms in preparation for war. After returning to western Virginia to recruit mountaineers, he was appointed a Confederate brigadier on May 23, 1861. He took part in small battles at Cross Lanes, Carnifix Ferry and Gauley Bridge. In December of 1861, his brigade was sent to join Gen. Albert Sidney Johnston's army in Tennessee. Floyd's brigade took part in the defense of Fort Donelson in February of 1862. In the face of a surrender to Union troops, he was able to take a steamboat and save most of his brigade, allowing Brig. Gen. Buckner to surrender the main army. Retreating to Nashville, he left after trying to save supplies there. On March 11, 1862, he was removed from his position for deserting his command. Despite his dishonor, he took an active part in the war effort in southwestern Virginia, and was commissioned a major general in the militia. He raised a band of "partisans," which attacked Union troops and antagonized Confederates by interfering with their recruitment of Regulars. Floyd's health deteriorated, and he died near Abingdon, Virginia, on August 26, 1863.