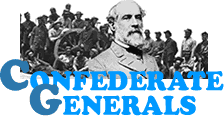 GENERAL ARNOLD ELZEY, CSA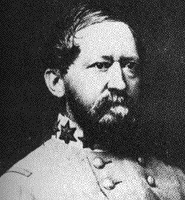 VITAL STATISTICS
BORN: 1816 in Somerset, MD.
DIED: 1871 in Baltimore, MD.
CAMPAIGNS: First Bull Run, Shenandoah Valley, Port Republic,
Gaines' Mill and Richmond.
HIGHEST RANK ACHIEVED: Major General.
BIOGRAPHY
Arnold Elzey Jones was born on December 18, 1816, at "Elmwood" in Somerset County, Maryland. After graduating from West Point in 1837, used his middle name, belonging to his paternal grandmother, as his last name, and stopped using "Jones." Elzey served in the Seminole and Mexican Wars, and was brevetted for gallantry. When the Civil War began, Elzey was a captain in the US Army. He led the arsenal at Augusta, Georgia, and surrendered it to Confederate forces in April of 1861. Upon his return to Washington, he resigned his commission in the US Army and traveled to Richmond, Virginia. There he was commissioned colonel of the 1st Maryland in the Confederate armed forces. He was a senior colonel at the First Battle of Bull Run, and resumed command of his brigade when its temporary commander was wounded. As a result, he was appointed brigadier general to date from July 21, 1861. In the campaigns of 1862, he led a brigade under Maj. Gen. Thomas J. "Stonewall" Jackson, fighting well in the Shenandoah Campaign and having a horse shot under him at Port Republic. Elzey was severely wounded in the head and face at Gaines' Mill, during the Seven Days' Campaign. When he returned to duty, he had been promoted to major general, to date from December 4, 1862. Elzey was given leadership over the Department of Richmond, responsible for defending the Confederate capital. After being relieved of command, he organized the Local Defense Brigade of government clerks. Elzey helped organize the Virginia reserves, then served as chief of artillery of the Army of Tennessee. He was not present, however, at the invasion of Tennessee in 1864. He was paroled in Washington, Georgia, in May of 1865, then returned to Maryland. Elzey worked as a farmer until his death in Baltimore, Maryland, on February 21, 1871.