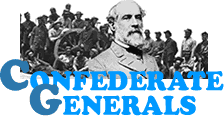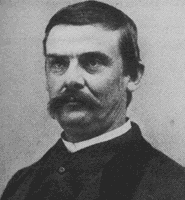 VITAL STATISTICS
BORN: 1823 in Lynchburg, VA.
DIED: 1896 in Staunton, VA.
CAMPAIGNS: First Bull Run, Shenandoah Valley, Kernstown,
Droop Mountain, New Market and Cold Harbor.
HIGHEST RANK ACHIEVED: Brigadier General.
BIOGRAPHY
John Echols was born in Lynchburg, Virginia, on March 20, 1823. After graduating from Washington College in Virginia, he studied law at Harvard, and was admitted to the bar. He served as commonwealth attorney, and as a Virginia state legislator. Echols was a physically imposing man, at 6 feet, 4 inches tall and 260 pounds. When Virginia seceded from the Union, Echols worked to recruit volunteers in western Virginia. Appointed lieutenant colonel of the 27th Virginia, he led his regiment in the First Battle of Bull Run, joining four other Virginia regiments in winning fame as the "Stonewall Brigade." Echols took part in the Shenandoah Valley Campaign, and was seriously wounded at Kernstown in March of 1862. On April 16, while recuperating, he was commissioned a brigadier general. He took over a brigade in the Army of Western Virginia, then became commander of the Army of Southwest Virginia. In the summer of 1863, he served on the court of inquiry to examine the July surrender of Vicksburg, Mississippi. His troops were defeated at Droop Mountain in November of 1863. After serving under Maj. Gen. John C. Breckinridge at the Battle of Newmarket, he and his brigade went east and fought at Cold Harbor. He took command of the District of Southwest Virginia, then took over Lt. Gen. Jubal A. Early's position as commander of the Department of Western Virginia. On his way to east to join with Gen. Robert E. Lee's army, he found out about the surrender at Appomattox. Marching to North Carolina, he joined Gen. Joseph E. Johnston's army, then surrendered in Augusta, Georgia. After the Civil War, Echols went back to his legal practice. He became a wealthy lawyer and businessman, involved in banking and railroads. Echols died on May 24, 1896, in Staunton, Virginia.