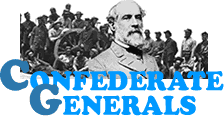 GENERAL JUBAL ANDERSON EARLY, CSA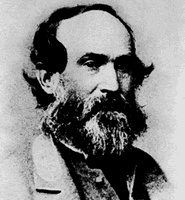 VITAL STATISTICS
BORN: 1816 in Franklin City, VA.
DIED: 1894 in Lynchburg, VA.
CAMPAIGNS: Blackburn's Ford, First Bull Run, Williamsburg, Malvern Hill, Cedar Mountain, Second Bull Run, Antietam, Fredericksburg, Chancellorsville, Mine Run, Wilderness, Gettysburg, Cold Harbor, Monocacy, Chambersburg, Fisher's Hill, Winchester, Cedar Creek and Waynesborough.
HIGHEST RANK ACHIEVED: Lieutenant General.
BIOGRAPHY
Jubal Anderson Early was born on November 3, 1816, in Franklin County, Virginia. Part of a prominent family, he attended local schools. His mother died in 1832, and he was sent to the US Military Academy a year later. Graduating in 1837, he fought in the Seminole War, then resigned from the service to become a lawyer in Rocky Mount, Virginia. While he voted against secession in the state convention of 1861, he chose to join the state forces in Lynchburg when Virginia seceded. After Virginia's official secession, Early joined his regiment in Manassas Junction. He commanded troops at Blackburn's Ford, then served under Brig. Gen. P. G. T. Beauregard at the First Battle of Bull Run. His service at Bull Run impressed his superiors so much that he was appointed a brigadier general. Early fought under Gen. Joseph E. Johnston in the Army of Northern Virginia , and was shot in the shoulder at Williamsburg. He remained on the field, however, until he was removed and taken to a hospital. After his quick recovery, he returned to the field, commanding a brigade in the Battle of Malvern Hill. He later served at the Battle of Cedar Mountain, the Second Battle of Bull Run, Antietam and Fredericksburg. Promoted to major general to rank from January 17, 1863, he was placed in charge of a division. At Chancellorsville, however, Early failed to reconnoiter sufficiently, endangering but not jeopardizing a Confederate victory. This same problem occurred at Mine Run in 1863, and in the Wilderness in 1864. Nevertheless, Early's work in the Gettysburg Campaign kept him high in General Lee's estimation, and Early was appointed lieutenant general as of may 31, 1864. After taking part in the Battle of Cold Harbor, he led his troops across the Potomac River and score a victory, probably the most important of his career, at Monocacy. Nevertheless, Early's operation there alerted Union forces in the Washington area, forcing Early to abandon his plans to attack the capital. Along his retreat, he took part in the burning of Chambersburg, Pennsylvania, in revenge for the Union's destruction of the Shenandoah Valley. Early went on to lead troops against Maj. Gen. Philip H. Sheridan at Fisher's Hill, Winchester, Cedar Creek and Waynesborough. After the Confederacy surrendered, Early traveled to Texas in disguise, then went to Havana, Cuba and Toronto, Canada. While in Canada, he wrote "A Memoir of the Last Year of the War" (1867), then returned to Lynchburg in 1869 and resumed his law practice. He refused to accept the Confederate defeat graciously, unlike many of his Confederate colleagues. Later in life, he supervised the Louisiana State Lottery, and was the first president of the Southern Historical Society. He revised his memoir and published it as "Autobiographical Sketches" (1912), exhibiting his defiance toward reconstruction. Early died on March 2, 1894, in Lynchburg, Virginia.