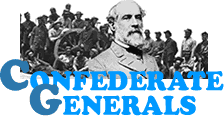 GENERAL RALEIGH EDWARD COLSTON, CSA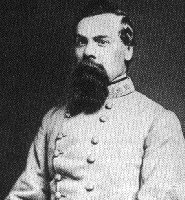 VITAL STATISTICS
BORN: 1821 in Paris, FRANCE.
DIED: 1896 in Richmond, VA.
CAMPAIGNS: Seven Days and Chancellorsville.
HIGHEST RANK ACHIEVED: Brigadier General.
BIOGRAPHY
Raleigh Colston was born in Paris, France, on October 31, 1825. Adopted by a Virginia doctor, he came to the US in 1842. After graduating from the Virginia Military Institute, he joined the faculty as a professor of French until 1861. At the beginning of the Civil War, Colston was appointed colonel of the 16th Virginia, and was promoted to brigadier general on December 24, 1861. Placed in command of three regiments, he served in the Peninsula Campaign and at Williamsburg. After being mildly admonished for his role at the Battle of Seven Pines, he became ill, and left the army until December. In the spring of 1863, Brig. Gen. Thomas J. "Stonewall" Jackson chose Colston to command a brigade. Serving as senior brigadier of the "Stonewall" Division, he took on divisional leadership when the division's commander was wounded. Although he had little combat experience and had been with the division for less than a month, he led the division at Chancellorsville. During the early morning Confederate attack on May 3, 1863; Colston lost control of his troops. While the division was seriously hampered by its lack of officers, Colston received the blame for the mishap. On May 20, he was removed from command. In 1864, he was assigned to serve under Gen. P. G. T. Beauregard at Petersburg, Virginia. At the end of the war, Colston was commanding troops at Lynchburg. After the war, Colston became a colonel in the Egyptian army. He was badly injured by a fall from a camel, and returned to the US in 1879. Crippled by the accident, Colston died in Richmond, Virginia, on July 29, 1896; a poor man in the Confederate Soldiers' Home.