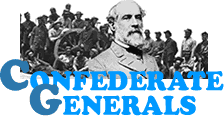 GENERAL ALFRED HOLT COLQUITT, CSA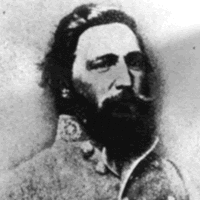 VITAL STATISTICS
BORN: 1824 in Walton City, GA.
DIED: 1894 in Washington, DC.
CAMPAIGNS: Seven Days, Fredericksburg, Antietam, Petersburg.
HIGHEST RANK ACHIEVED: Brigadier General.
BIOGRAPHY
Alfred Holt Colquitt was born on April 20, 1824, in Walton County, Georgia, the son of a Democratic Senator. Educated in local schools, he attended the College of New Jersey (now called Princeton), and graduated in 1844. After studying law, he was admitted to the bar in Georgia in 1846, and joined he army to fight in the Mexican War. He left the service as a major and staff officer, and returned to his law practice. In 1849, he was appointed assistance secretary of the Georgia Senate, and was elected to the US House of Representatives in 1852. Due to his wife's illness, he left politics in 1854, but returned after her death in 1855. Serving in the Georgia legislature, he was a presidential elector for John C. Breckinridge in the election of 1860. In 1861, he was a delegate to the Georgia secession convention, and followed his state when it chose to secede from the Union. Colquitt was chosen colonel of the 6th Georgia Infantry in May of 1861, serving throughout the Peninsula Campaign. He saw action at Williamsburg and in the Seven Days' Campaign, and held brigade command under Maj. Gen. Daniel H. Hill at Antietam. Appointed a brigadier general to rank from September 1, 1862, he served at Fredericksburg and Chancellorsville, then served in North Carolina in 1863. In 1864, he was transferred to Florida. Colquitt helped the Confederacy achieve victory at Olustee by leading one of Brig. Gen. Joseph Finegan's brigades. He also took part in the Battles at Drewry's Bluff and the Siege of Petersburg . Colquitt surrendered in North Carolina in May of 1865. After the war, he became licensed as a Methodist preacher, but chose not to serve in the ministry. Returning to practice law and farming, he fought against Reconstruction. In 1876, he became governor of Georgia by the largest majority in state history up to that time. Six years later, he was elected to the US Senate, in which he remained until his death in Washington, D.C., on March 26, 1894.