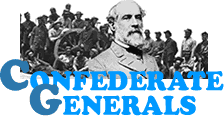 GENERAL SIMON BOLIVAR BUCKNER, CSA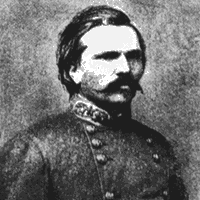 VITAL STATISTICS
BORN: 1823 in Harty City, KY.
DIED: 1914 in Munfordville, KY.
CAMPAIGNS: Fort Donelson and Chickamauga.
HIGHEST RANK ACHIEVED: Brigadier General.
BIOGRAPHY
Simon Bolivar Buckner was born on April 1, 1823, in Hart County, Kentucky. After graduating from the US Military Academy in 1844, he served in the Mexican War. He left the army in 1855 to enter the business world. Although he did not own slaves, he felt that states had the right to determine whether they would allow slavery or not. He supported Kentucky's neutrality, refusing a commission in the Union Army. Escaping to the South to avoid arrest for being a traitor, Buckner was commissioned a brigadier general in the Confederate army on September 14, 1861. He occupied Bowling Green; and surrendered Fort Donelson, after his superiors fled, to his former West Point classmate Brig. Gen. U.S. Grant. After being exchanged, Buckner joined Gen. Braxton Bragg's 1862 invasion of Kentucky. He was placed in command of the Department of East Tennessee in 1863 transferred back to Bragg's army, and commanded troops at Chickamauga, but played only a minor role there. He became a leader in the campaign to get General Bragg removed. On September 20, 1864, Buckner was promoted to lieutenant general, and was moved to the Trans-Mississippi Department. There he served as chief of staff for Gen. Kirby Smith. In 1867, he was allowed to return home, where he worked successfully in business, wrote and became active in Confederate veterans' groups. In 1887, Buckner was elected governor of Kentucky as a Democrat, and served for four years. He ran for Vice President as a Gold Democrat in 1896, but lost the election. Buckner died at his home near Munfordville, Kentucky on January 8, 1914; the last survivor of the top three ranks in the Confederate military.