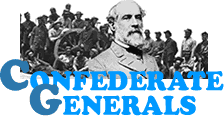 GENERAL JOHN CABELL BRECKINRIDGE, CSA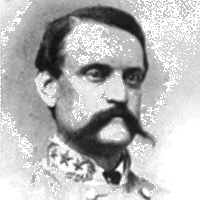 VITAL STATISTICS
BORN: 1821 in Lexington, KY.
DIED: 1875 in Lexington, KY.
CAMPAIGNS: Shiloh, Chickamauga, and Cold Harbor.
HIGHEST RANK ACHIEVED: Major General.
BIOGRAPHY
John Cabell Breckinridge was born on January 15, 1821, in Lexington, Kentucky. After studying law, he practiced law for several years, then was elected to state legislature in 1849. After serving two terms in US House of Representatives (1851-55), the Democratic Party nominated him, against his will, to run with James Buchanan for the White House. In 1856, the 35-year-old Breckinridge was elected the youngest Vice President in US history. Breckinridge was not a secessionist, but was identified with some of his Southern extremist supporters. Although he had done nothing treasonous, he was accused of being a Confederate sympathizer. He was arrested in Washington in September of 1861, while serving as a US Senator. He escaped to the South before he could be taken into custody. Although he joined the Confederate cause, he confessed to friends that he did not think the Confederacy could win. Appointed a major general on April 14, 1862, he led a corps at Shiloh, and commanded troops in an attack on Baton Rouge. After the Battle of Stone's River, he became involved in a controversy with Gen. Braxton Bragg over the treatment of troops in Kentucky. Breckinridge fought at Jackson, Mississippi and at Chickamauga, then led troops at Missionary Ridge. He then went east to lead the Department of Southwestern Virginia. Later, he commanded at New Market, Cold Harbor, Early's Washington Raid, and in the Shenandoah Campaign of 1864. In February of 1865, Confederate President Jefferson Davis appointed Breckinridge Secretary of War, in which position Breckinridge worked to bring about an honorable surrender. After organizing the evacuation of Richmond, he joined the Confederate Cabinet in fleeing to North Carolina. Breckinridge helped negotiate the Confederate surrender to Gen. William T. Sherman, then escaped to Cuba. After three years in exile, he returned to Kentucky in 1869, where he practiced law. The war having taken its toll on Breckinridge, he died at the age of 54, on May 17, 1875, at his home in Lexington, Kentucky.