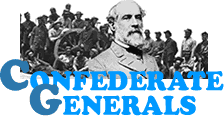 GENERAL WILLIAM LINDSAY BRANDON, CSA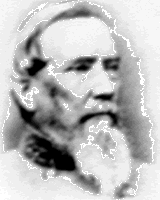 VITAL STATISTICS
BORN: 1801 in Adams City, MS.
DIED: 1890 in Wilkinson City, MS.
CAMPAIGNS: Malvern Hill, Gettysburg, and Chickamauga.
HIGHEST RANK ACHIEVED: Brigadier General.
BIOGRAPHY
William Lindsay Brandon's family records were destroyed, so his exact birthdate is uncertain, but historians know that he was born in 1801 in Adams County, Mississippi. He attended the College of New Jersey (now Princeton), and probably studied medicine. He went on to work as a planter and state legislator. When the war began, Brandon was almost 60 years old. Nevertheless, his age was ignored when he was appointed a lieutenant colonel in the 21st Mississippi in 1861. He fought in the Battle of Malvern Hill, where he lost a leg. After taking almost a year's leave to recuperate, he rejoined the 21st. At the Battle of Gettysburg, he was promoted to colonel. He served under Brig. Gen. Benjamin G. Humphreys on detached service from the Army of Northern Virginia, fighting in the Campaigns of Chickamauga and Knoxville. Promoted to brigadier general to rank from June 18, 1864, he was sent home to Mississippi. There he was appointed head of the state's Confederate Bureau of Conscription. The position was not a rewarding one, since there were many deserters and few other able-bodied men in the district eligible for military service. The bureau was closed before the end of the war. After the end of the Civil War, he went back to being a planter, and lived in semi-retirement on his plantation, "Arcole," in Wilkinson County, Mississippi. Brandon died there on October 8, 1890.