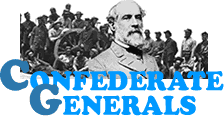 GENERAL LAWRENCE O'BRYAN BRANCH, CSA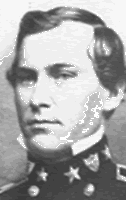 VITAL STATISTICS
BORN: 1801 in Enfield, NC.
DIED: 1862 in Antietam.
CAMPAIGNS: Seven Days, Bull Run, Antietam.
HIGHEST RANK ACHIEVED: Brigadier General.
BIOGRAPHY
Lawrence O'Bryan Branch was born in Enfield, North Carolina, on November 28, 1828. He was tutored by Salmon P. Chase, who later became Secretary of the Treasury under President Lincoln. After graduating from the College of New Jersey (now called Princeton); Branch became a newspaperman, practiced law in Florida, fought in the Seminole War and served as a Democratic Congressman representing North Carolina for three terms. When North Carolina seceded from the Union, Branch was appointed quartermaster and paymaster of state troops. He resigned from this position to become a colonel of the 33d North Carolina. Promoted to brigadier general on November 16, 1861, he took command of troops around New Berne, North Carolina. A few months later, he lost New Berne to Union Maj. Gen. Ambrose E. Burnside. Branch was then ordered to Virginia, to serve as part of Maj. Gen. Ambrose P. Hill's Light Division. Branch's troops fought in the Seven Days' Campaign, Cedar Mountain, the Second Bull Run Campaign and the capture of Harpers Ferry (Virginia). At the Battle of Antietam, his brigade joined two others in pushing back the Union assault. On September 17, 1862, during the Battle of Antietam, Branch was talking with his colleagues when a Union sharpshooter shot him in the face, killing him instantly. Branch was buried in Raleigh, North Carolina.