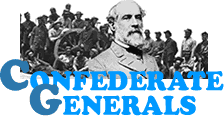 GENERAL BRAXTON BRAGG, CSA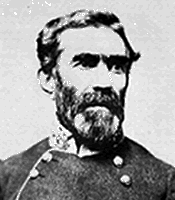 VITAL STATISTICS
BORN: 1817 in Warrenton, NC.
DIED: 1876 in Galveston, TX.
CAMPAIGNS: Corinth, Perryville, Chattanooga, Chickamauga, Missionary Ridge.
HIGHEST RANK ACHIEVED: General.
BIOGRAPHY
Braxton Bragg was born in Warrenton, North Carolina, on March 22, 1817. He attended the US Military Academy at West Point, and graduated in 1837. He served in the Mexican War, reaching the rank of lieutenant colonel before leaving the army in 1856 to become a planter in Louisiana. In 1861, he was appointed a brigadier general in the Confederate forces, and took command of the Pensacola-Mobile region. The next year, he was promoted to major general, joining Gen. Albert Sidney Johnston's forces. Bragg led troops at the Siege of Corinth; and was made a full general by his friend, Confederate President Jefferson Davis, in June of 1862. Bragg was placed in command of the Army of Tennessee, with which he invaded Kentucky in 1862, but was forced out after the Battle of Perryville. He won an initial success when he attacked Maj. Gen. William S. Rosecrans' army at Stone's River , but was soon heavily defeated. Rosecrans defeated him again at Chattanooga, but Bragg countered with a victory at Chickamauga. Although Bragg pushed the Union forces back, he failed to follow up. This failure, combined with Bragg's unpopularity, led a number of Confederate generals to urge Confederate President Davis to remove Bragg from command. Davis did not heed this advice, however, and retained Bragg in his position. At Missionary Ridge, Bragg's troops were routed in a humiliating defeat, soon after which Bragg resigned his command. Davis appointed Bragg chief of staff and, after Robert E. Lee became commanding general of the Confederate Army, Bragg was placed in command of a division in the Army of Tennessee. Under Gen. Joseph E. Johnston, he took part in the Battle of Bentonville. Although he was held to be a talented organizer and strategist, Bragg was described as having an unpleasant personality and somewhat lacking in intellect. He died on September 27, 1876, in Galveston, Texas.