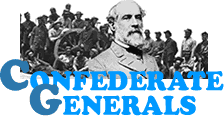 GENERAL WILLIAM ROBERTSON BOGGS, CSA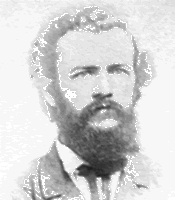 VITAL STATISTICS
BORN: 1829 in Augusta, GA.
DIED: 1913 in Winston-Samlem, NC.
HIGHEST RANK ACHIEVED: Brigadier General.
BIOGRAPHY
William Robertson Boggs was born on March 18, 1829, in Augusta, Georgia. He attended Augusta Academy, then won a position in the US Military Academy at West Point, studying engineering. Graduating in 1853; he was brevetted a 2d lieutenant in the Corps of Topographical Engineers. He transferred to ordnance the next year, and was promoted to 1st lieutenant of ordnance in Louisiana. Boggs fought near Fort Broome in 1859, and was appointed captain in the Confederate Corps of Engineers in 1861. He transferred immediately to Charleston, South Carolina, where he served under Brig. Gen. P. G. T. Beauregard. Boggs later went to Pensacola, Florida, and commanded all of Maj. Gen. Braxton Bragg's engineers and artillery. Both Beauregard and Bragg praised Boggs for his work as an army engineer, and Boggs was made chief engineer of Georgia in 1862. On November 4, 1862, after serving under Maj. Gen. John C. Pemberton in Georgia and Florida; Boggs was commissioned a brigadier general. From his promotion to the last few months of the war, he worked as chief of staff for Gen. E. Kirby Smith in the Trans-Mississippi Department. From the end of the war until 1875, Boggs worked as an architect, a railroad construction engineer, and a civil and a mining engineer in St. Louis, Missouri. Later, he became a mechanics and drawing professor at Virginia Polytechnic Institute. Boggs retired to his home in Winston-Salem, North Carolina. He died at home on September 11, 1911.