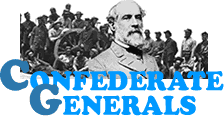 GENERAL PIERRE GUSTAVE TOUTANT BEAUREGARD, CSA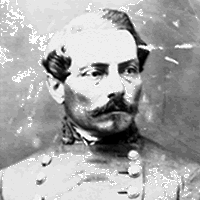 VITAL STATISTICS
BORN: 1818 in St. Bernard Parish, LA.
DIED: 1893 in New Orleans, LA.
CAMPAIGNS: Fort Sumpter, First Bull Run, West Shiloh,
Bermuda Hundred, and First Drewry's Bluff.
HIGHEST RANK ACHIEVED: Brigadier General.
BIOGRAPHY
Pierre Gustave Toutant Beauregard was born on May 28, 1818, in St. Bernard Parish, Louisiana. He was born of Creole parents, and spoke French before he spoke English. Beauregard studied at the US Military Academy at West Point, where his fluency in French allowed him to read many military classics in their original language. He graduated second in his class in 1838. One of his classmates was Irvin McDowell, whom Beauregard would later defeat at the First Battle of Bull Run in 1861. After graduating, Beauregard was commissioned a 2d lieutenant in the Corps of Engineers; assigned to Fort Adams, near Newport, Rhode Island. He was promoted to 1st lieutenant in 1839; and transferred to Pensacola, Florida to build coastal defenses. He was then transferred to Batavia Bay on the Louisiana Gulf. During the Mexican War, he worked as an engineer under Gen. Winfield Scott. Beauregard received two wounds and two brevets during the course of the war. For several years, he supervised the building of coastal fortifications. Chief engineer in charge of draining New Orleans from 1858 to 1861, he also directed the federal customs house in that city. In January of 1861, he was Beauregard was appointed superintendent of West Point. He held the position for only a few days, however, before his outspoken Southern sympathies led to his being released. On February 20, 1861, Beauregard resigned his commission, and accepted a commission as a brigadier general in the Confederate States Army on March 1. He commanded the bombing of Fort Sumter in Charleston Harbor, where US Army forces had gathered for safety and defense. In two days, Union forces surrendered the fort. This was the Confederacy's first victory, and it established Beauregard's reputation. Upon his return to Richmond, Virginia, Beauregard was ordered to direct Confederate troops near Manassas Junction during the First Battle of Bull Run. Promoted to the rank of general in the Confederate Regular Army on August 31, 1861; he soon came into conflict with the Confederate War Department. In order to remove Beauregard from the Richmond area, Confederate President Jefferson Davis moved him to the West. In early 1862, Beauregard served under Gen. Albert Sidney Johnston, with whom he planned an assault on Maj. Gen. U. S. Grant;s troops at Pittsburgh Landing. The battle that resulted was the Battle of Shiloh. When Gen. Johnston was killed in the battle, Beauregard took command. He sent word to Richmond that the battle was a Confederate victory, but the troops were not able to defeat the Union troops. The Confederate troops were forced to retreat. Confederate President Davis blamed Beauregard for failing to achieve a victory. Matters were made worse by Beauregard's later evacuation of Corinth. When Beauregard became ill in 1862 and gave command to Gen. Braxton Bragg temporarily, Confederate President Davis made the transfer of power permanent. Upon his recovery, Beauregard was appointed to the command of the coastal defenses of Carolinas and Georgia. In April of 1864, he was recalled to Virginia, and began assisting Gen. Robert E. Lee by defending the southern entry to Richmond. He hindered Maj. Gen. Benjamin F. Butler's troops at Bermuda Hundred, and defeated Butler's forces at the second Battle at Drewry's Bluff. Considered vain and egotistical by many, Beauregard was held to be a better engineer than military strategist. He was very popular because of his victory at Fort Sumter, and was quite competent as a military commander. Nevertheless, his reputation may have exceeded his abilities. In addition, he tended to make highly critical remarks about others, adopt "textbook" strategies and lose his temper; making him "persona non grata" with the Confederate high command. By the last year of the war, Beauregard was appointed to the command of the Military Division of the West, a position with little prestige and no military influence. In the last weeks of the war, he was serving in the Carolinas, struggling to slow Maj. Gen. William T. Sherman's progress. After the Civil War, Beauregard returned to New Orleans. He went on to work as a railroad president, a supervisor of the Louisiana State Lottery and state adjutant general. Although he received many offers to command the armies of foreign nations, he refused all of them. Beauregard died in New Orleans on February 20, 1893.