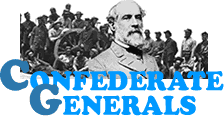 GENERAL WILLIAM NELSON RECTOR BEALL, CSA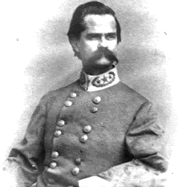 VITAL STATISTICS
BORN: 1825 in Bardstown, KY.
DIED: 1883 in McMinnville, TN.
CAMPAIGNS: Corinth and Port Hudson.
HIGHEST RANK ACHIEVED: Brigadier General.
BIOGRAPHY
William Nelson Rector Beall was born in Rhode Island, on October 19, 1808. Little is known about his early life, except that he was sent to the US Military Academy at West Point from Maryland. He graduated in 1830, and was appointed a 2d lieutenant in the 1st US Infantry. For 30 years, he served in the Infantry and the 2d US Dragoons, rising to the rank of major. He fought in the Seminole and Mexican Wars. In 1861, Confederate Secretary of the Navy, Stephen R. Mallory, appointed Beall a colonel in the Confederate States Marine Corps. An administrator during the Civil War, Beall's military knowledge and experience remained an untapped resource. Beall worked hard to have the Confederate Marine Corps receive the personnel, supplies and other benefits accorded to other branches of the military. By the end of the war, he had succeeded in helping improve the resources available to the Confederate Marine Corps. The Corps obtained a separate marine training camp in Charleston, South Carolina; several permanent stations on the Mississippi River and Atlantic Coast. In addition., one station was established on top of Drewry's Bluff in Virginia, and was named Camp Beall in honor of the Marine administrator. Thanks, in part, to Beall's efforts; the Confederate Marines gained a reputation for distinguished combat service, on the sea and on every front. After the Civil War, Beall lived in Richmond, Virginia, and kept most of the Confederate States Marine Corps records at his home. Much of this history, along with Beall's personal history, was destroyed in a fire. Beall died in Richmond, on November 10, 1887.