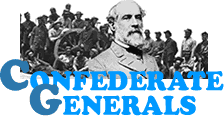 GENERAL RICHARD LEE TURBERVILLE BEAL, CSA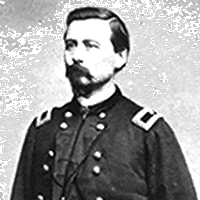 VITAL STATISTICS
BORN: 1819 in Westmoreland City, VA.
DIED: 1893 in Hague, VA.
CAMPAIGNS: Second Bull Run, Antietam, Fredericksburg, Gettysburg, Kilpatrick-Dahlgren Raid.
HIGHEST RANK ACHIEVED: Brigadier General.
BIOGRAPHY
Richard Lee Turberville Beale was born in Westmoreland County, Virginia, on May 22, 1819. After graduating from the University of Virginia in 1837, he became an attorney. In 1846, Beale was elected to Congress for one term, then served in the Virginia constitutional convention and the state legislature. Commissioned 1st lieutenant of cavalry in 1861, he served in Lee's Light Horse, a provisional unit which was later organized into the 9th Virginia Cavalry. As he was promoted through the ranks; Beale fought on the Virginia peninsula, then served under Maj. Gen. J. E. B. Stuart at the Second Bull Run and Antietam Campaigns. Although he offered his resignation from the service three times, he continued to be promoted. Hoping to avoid the details of regular duty, he requested a guerrilla command or the opportunity to return to the ranks of a private. Neither request was granted, but he was persuaded to continue in regular command. After fighting in the Battle of Fredericksburg, he served in the cavalry's campaigns up through the Battle of Gettysburg. In September 1863, he was wounded, and was placed on recuperative leave for three months. In 1864, he returned to duty, serving in Maj. Gen. W. H. F. Lee's division. Part of Beale's command helped pursue and capture Union cavalry involved in the Kilpatrick-Dahlgren Raid. Late in 1864, he was appointed a brigadier general without a commission; and, on January 6, 1865, the official confirmation of the appointment came through. After the war, Beale returned to practicing law, in Hague, Virginia. In 1879, he was elected for a term in the US House of Representatives. Beale died on April 21, 1893, in Hague, Virginia.