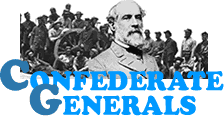 GENERAL WILLIAM BRIMAGE BATE, CSA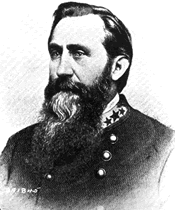 VITAL STATISTICS
BORN: 1826 in Bledsoe's Leeks, TN.
DIED: 1905 in Washington, DC.
CAMPAIGNS: Shiloh, Tullahoma, Chattanooga, Franklin and Nashville.
HIGHEST RANK ACHIEVED: Brigadier General.
BIOGRAPHY
William Brimage Bate was born on October 7, 1826, in Bledsoe's Lick, Tennessee. He had access to little formal education, and left home at the age of 16. Bate worked as a clerk on the steamboat "Saladier;" and enlisted as a private in the Mexican War. By the end of the war, he was a lieutenant. Bate subsequently worked as a journalist; lawyer; Nashville District Attorney General; state legislator and presidential elector for John Breckinridge in 1860. At the beginning of the Civil War, Bate enlisted as a private, but was soon elected colonel of the 2d Tennessee Infantry. He led the 2d Tennessee at Shiloh, where he was wounded in the leg and forced out of action for several months. On October 3, 1862, he was commissioned a brigadier general; going on to fight in all the campaigns of the Army of Tennessee, from Tullahoma to Chattanooga. He declined a nomination for governor of Tennessee in order to remain in the field. At the end of the Tennessee operations, Bates was appointed a major general, to rank from February 23, 1864. Bate later fought at Dalton and Atlanta, Georgia; and joined the Gen. John Bell Hood's Tennessee expedition at Franklin and Nashville, Tennessee. At the end of the war, Bate was surrendered with the Army of Tennessee in North Carolina. During his military career, Bate had been wounded three times, and had six horses killed under him. After the war, he went to Nashville and reestablished his legal practice. In 1882, he was elected Governor of Tennessee, serving two terms. At the end of his second term, he was elected to the US Senate, where he held a seat until his death on March 9, 1905, in Washington, D.C.