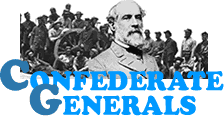 GENERAL SETH MAXWELL BARTON, CSA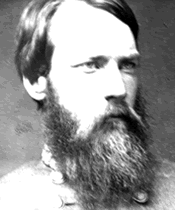 VITAL STATISTICS
BORN: 1829 in Fredericksburg, VA.
DIED: 1900 in Fredericksburg, VA.
CAMPAIGNS: Cheat Mountain, Green Brier River, Shenendoah Valley,
Chickasaw Bluffs, New Berne, Sayler's Creek.
HIGHEST RANK ACHIEVED: Brigadier General.
BIOGRAPHY
Seth Maxwell Barton was born on September 8, 1829, in Fredericksburg, Virginia. He entered the US Military Academy at West Point at the age of 15, and graduated in 1849. After serving outside New York City briefly, he was placed on frontier duty. By the time the Civil War began, Barton was a captain. He resigned from the US Army in 1861, and was appointed lieutenant colonel of the 3d Arkansas Infantry. Under Gen. Robert E. Lee, Barton took part in the fighting at Cheat Mountain and Greenbrier River. In the 1862 Shenandoah Valley Campaign, Barton was Gen. Thomas J. "Stonewall" Jackson's chief engineer. He became a brigadier general in 1862, and held brigade command in East Tennessee. After being transferred to the Vicksburg theater, he distinguished himself in battle, but was taken prisoner. He was exchanged, and went east to command a brigade in Maj. Gen. George E. Pickett's command. Pickett registered a formal complaint against Barton, who was censured for "want of cooperation." Barton was sent to Drewry's Bluff, under Maj. Gen. Robert Ransom, who agreed with Pickett's negative assessment. Barton was relieved of duty and left without an assignment for several months. After his fellow officers submitted a petition attesting to Barton's courage and commitment to the Confederate cause, Barton was finally given command of a brigade assigned to defend Richmond. He was ordered to the battlefront when Gen. Robert E. Lee was marching toward Appomattox. As he moved toward the fighting at Sayler's Creek, Barton was imprisoned at Fort Warren at Boston Harbor. Released about three months later after taking an oath of loyalty to the Union, Barton spent the years after the war in Fredericksburg. He died there, on April 11, 1900.