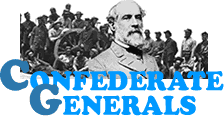 GENERAL WILLIAM BARKSDALE, CSA
VITAL STATISTICS
BORN: 1821 in Rutherford City, TN.
DIED: 1863 in Gettysburg, PA.
CAMPAIGNS: Second Bull Run, Peninsula, Fredericksburg, Chancellorsburg,,
Savage's Station and Gettysburg.
HIGHEST RANK ACHIEVED: Brigadier General.
BIOGRAPHY
William Barksdale was born on August 21, 1821, in Rutherford County, Tennessee. As a young man, he moved to Columbus, Mississippi. There, he practiced law and edited a pro-slavery periodical, the Columbus "Democrat." Barksdale enlisted in the 2nd Mississippi during the Mexican War, and was made a captain in 1847. He left the Army, and entered politics. When Mississippi passed the secession ordinance, however, Barksdale resigned from Congress. In 1861, he served as the state quartermaster general, then joined the Confederate Army as a colonel in the 13th Mississippi. Barksdale was sent east, and fought in all the major early battles except the Second Battle of Bull Run. Considered a competent commander, he was recommended for promotion to brigadier general in 1862. After leading his regiment through the Peninsula Campaign, and taking over brigade command when Brig. Gen. Richard Griffith was wounded; Barksdale was promoted to brigadier general. His command, consisting of his own regiment and three other Mississippi regiments, became known as "Barksdale's Mississippi Brigade." Barksdale was held to be an aggressive and determined officer; who, when in a defensive position, deployed troops efficiently. In 1863, when he was ordered to hold Marye's Heights at Fredericksburg, he was able to delay the advance of the Union troops. This helped Gen. Robert E. Lee prepare for the Battle at Chancellorsville. Barksdale was described as being a "radiant wild joy," always far ahead of his troops during charges. He was mortally wounded at the Battle of Gettysburg, and taken prisoner. Barksdale died on July 2, 1863, within Union lines.