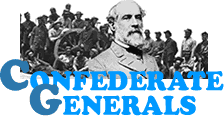 GENERAL WILLIAM EDWIN BALDWIN, CSA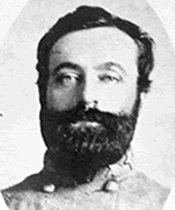 VITAL STATISTICS
BORN: 1827 in Statesburg, SC.
DIED: 1864 in Dog River Factory, AL.
CAMPAIGNS: Coffeeville, Port Gibson, Champion's Hill, Vicksburg.
HIGHEST RANK ACHIEVED: Brigadier General.
BIOGRAPHY
William Edwin Baldwin was born on July 28, 1827, in Statesburg, South Carolina. His family moved to Mississippi when Baldwin was young. He grew up to become the operator of a book and stationary store in Columbus. After training in the local militia for several years, he joined the Confederate Army in 1861, and was commissioned colonel of the 17th Mississippi Infantry. He and his troops were sent to Pensacola, Florida, but were later ordered to East Tennessee. From there, Baldwin was attached to the army in central Kentucky. He was commended for his troops' bravery during the initial attack on Fort Donelson, Tennessee. At Fort Donelson, Baldwin was taken prisoner, and was held at For Warren in Boston. After he was exchanged, he was promoted to the rank of brigadier general, commanding a brigade of Mississippi and Tennessee regiments in the Army of West Tennessee. Again commended for gallantry for his service at Coffeeville, Mississippi in 1862; he went on to lead troops at Port Gibson, Champion's Hill and throughout the Vicksburg Campaign. After being captured again, Baldwin was paroled and sent to the District of Mobile. Due to a broken stirrup he fell from his horse and died on February 19, 1864, near Dog River Factory.