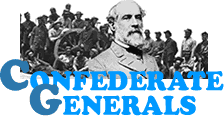 GENERAL ALPHEUS BAKER, CSA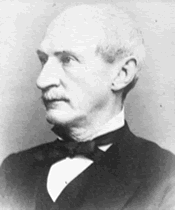 VITAL STATISTICS
BORN: 1828 in Abbeville District, SC.
DIED: 1891 in Louisville, KY.
CAMPAIGNS: New Madrid, Vicksburg, Champion's Hill,
Atlanta, Ezra Church and Carolinas.
HIGHEST RANK ACHIEVED: Brigadier General.
BIOGRAPHY
Alpheus Baker was born in Abbeville District, South Carolina, on May 28, 1828. After teaching school in South Carolina and Georgia, he studied law and moved to Alabama. He was admitted to the Alabama bar in 1849. Baker was elected to the Alabama constitutional convention, resigning to serve as captain of the Eufaula Rifles. After joining the 1st Alabama Infantry, he was assigned to Pensacola, Florida, then went to Tennessee in 1861. Baker was elected colonel of a regiment of Tennessee, Mississippi and Alabama troops. Taking part in the Battle of New Madrid, he was captured at Island No. 10, in 1862. He was exchanged a few months later, then became colonel of the 54th Alabama and led the troops in the Vicksburg Campaign. Baker was seriously wounded at Champion;s Hill in 1863, but recovered and was able to take command of an Alabama brigade. On March 5, 1864, he was promoted to brigadier general, maintaining the rank through the Atlanta Campaign. Baker also fought at Resaca, Georgia, and was wounded at Ezra Church in 1864. Reassigned to the Department of the Gulf, his brigade took part in the Carolinas Campaign. The brigade was captured at Bentonville, North Carolina, not long before Gen. Robert E. Lee's surrender. After the war, Baker returned to his law practice in Alabama, moving to Louisville, Kentucky in 1878. Baker died on October 2, 1891, in Louisville.