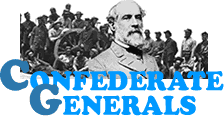 GENERAL LOUIS ADDISON ARMISTEAD, CSA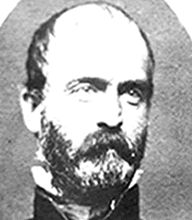 VITAL STATISTICS
BORN: 1817 in New Berne, NC.
DIED: 1863 in Cemetery Ridge, Gettysburg.
CAMPAIGNS: Seven Pines, Pickett's Charge, Gettysburg and Cemetery Ridge.
HIGHEST RANK ACHIEVED: Brigadier General.
BIOGRAPHY
Lewis Addison Armistead was born on February 18, 1817, in New Berne, North Carolina. The son of a high-ranking U.S. Army officer, Armistead entered West Point in 1834. In 1836, he was dismissed for breaking a plate over the head of cadet Jubal A. Early, who later became a Confederate general. Entering the army in 1839 as a lieutenant in the 6th U.S. Infantry, he was brevetted three times for bravery in the Seminole War. Although he held that "obedience to duty" was "the first qualification of a soldier", and was a strict disciplinarian, Armistead was known as a friendly man with a casual manner. He resigned from the army to join the Confederate forces in 1861. Armistead was a widower with a son, who later served as his father's aide, and was older than most of his colleagues. After a time as colonel of the 57th Virginia Infantry, he was promoted to the rank of brigadier general on April 1, 1862. Armistead distinguished himself at Seven Pines, where he first took his brigade into action. He was mortally wounded in Pickett's Charge at Gettysburg after shouting, "Give them the cold steel." He died on July 5, 1863, in a Federal field hospital, and was buried by friends in St. Paul's Cemetary in Baltimore, Maryland. He was burried next to his uncle Lt Col George Armistead who was the commander of Ft McHenry when it was bombarded during the War of 1812.