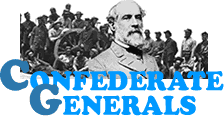 GENERAL JAMES JAY ARCHER, CSA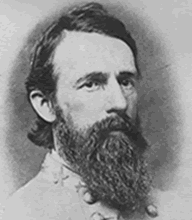 VITAL STATISTICS
BORN: 1817 in Bel Air, MD.
DIED: 1864 in Richmond, VA.
CAMPAIGNS: Peninsula, Eltham's Landing, Seven Pines, Second Bull Run, Antietam, Shepardstown, Fredericksburg, Chancellorsville, and Gettysburg.
HIGHEST RANK ACHIEVED: Brigadier General.
BIOGRAPHY
James Jay Archer was born in Bel Air, Maryland, on December 19, 1817. Before the Civil War, he worked as a lawyer, fought as a volunteer in the Mexican War, was cited for gallantry at Chaoultepec, and returned to his law practice, then joined the Regular Army as captain of the 9th Infantry in 1855. When the war began, Archer resigned and joined the Confederate Army as colonel of the 5th Texas. Several units, including the 5th, 2 others from Texas, and 2 from Georgia, were merged into one brigade under former Texas Sen. Louis T. Wigfall. After Brig. Gen. John Bell Hood took over command, the brigade fought in the Peninsula Campaign. Archer fought well under Hood at Eltham's Landing and Seven Pines, and was promoted to brigadier general on June 3, 1862. Succeeding Brig. Gen. Robert Hatton, Archer commanded three Tennessee regiments. Later in June of 1862, Archer's brigade joined five others to form the Light Division under Maj. Gen. Ambrose P. Hill. Archer led his brigade of five regiments in the Seven Days' Campaign, at Cedar Mountain, and at Second Bull Run, where his horse was killed under him. On September 17, 1862, the Light Division arrived at Antietam to assist Gen. Robert E. Lee's army. Although Archer was too sick to ride, he directed the brigade from an ambulance. His troops were successful in defeating the Union flank and recapturing a Confederate battery. At the Battle of Shepherdstown, three days later, Archer and Brig. Gen. William D. Pender defeated a Union pursuit force, ending the Antietam Campaign. Despite his ill health, Archer's leadership contributed to victories at Fredericksburg and Chancellorsville. At Gettysburg, he and most of his troops, fighting in Maj. Gen. Henry Heth's new division, were defeated and captured, and Archer became the first general officer to be taken since Gen. Lee took command of the Confederate forces. A prisoner at Johnson's Island in Ohio for one year, Archer found his health rapidly deteriorating. He was exchanged late in the summer of 1864, and commanded two brigades briefly before his death in Richmond, Virginia on October 24, 1864.