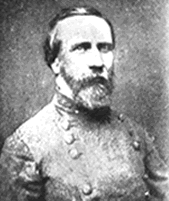 VITAL STATISTICS
BORN: 1821 in Sumpter City, SC.
DIED: 1879 in Beaufort, SC
CAMPAIGNS: Fort Sumpter, Peninsula, Seven Pines, Gaines' Mill, Malvern Hill, Second Bull Run, Antietam, Fredericksburg, Chancesllorsville, Gettysburg, Spotsylvania, Cold Harbor, and Saylor's Creek.
HIGHEST RANK ACHIEVED: Lieutenant General.
BIOGRAPHY
Nicknamed "Fightin' Dick," Richard Heron Anderson was born in Sumter County, South Carolina, on October 7, 1821. The grandson of the Revolutionary War hero Richard Anderson, he graduated from West Point and attended cavalry school at Carlisle, PA. After serving with the dragoons in the West a, he fought with them in the Mexican War, in which he was brevetted 1st lieutenant "for gallant and meritorious conduct in combat." In December 1860, when South Carolina seceded from the Union, Anderson resigned his commission and became colonel of the 1st South Carolina Infantry. He fought at the Siege of Fort Sumter and succeeded Brig. Gen. P. G. T. Beauregard in command at Charleston in July 1861. Appointed brigadier general on July 18 1861, he went to Pensacola, FL, as Gen. Braxton Bragg; top assistant in August. In the Pennsylvania campaign of 1862, Anderson fought at the Battles of Seven Pines, Gaines' Mill, and Malvern Hill. Promoted to major general in July 1862, he performed well over the next two years at the Second Battle of Bull Run, Antietam, Fredericksburg, Chancellorsville, Gettysburg, Spotsylvania, and Cold Harbor. Anderson was given the rank of lieutenant general in May 1864, and was much admired by General Robert E. Lee. At the Battle of Sayler's Creek, Anderson's command was scattered, and he barely escaped capture. Although he returned to Richmond, VA, there was no command commensurate with his rank, so he was relieved as supernumerary the day before General Lee's surrender. Anderson spent his post-war years in poverty, and died in Beaufort, SC, on June 26, 1879.