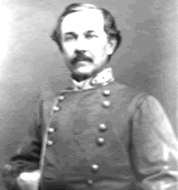 VITAL STATISTICS
BORN: 1813 in Botetourt County, VA.
DIED: 1892 in Shoals, NH
CAMPAIGNS: Mechanicsville, Gaines' Mill, White Oak Samp.
HIGHEST RANK ACHIEVED: Brigadier General.
BIOGRAPHY
Born in Botetourt County, VA, on February 16, 1813. After graduating 4th in his class at West Point, he was commissioned a 2d lieutenant, but chose to use his engineering skills outside the military. Leaving the army in 1837, he worked for 5 years as an engineer in Virginia. His association with Tredegar Iron Co. of Richmond, Virginia, began by 1841, and it would make him the biggest industrialist of the South. He built up the company so well that it became one of the country's leading foundries, producing locomotives, boilers, cables, naval hardware, and cannon by 1860. A supporter of the secessionist movement, he became a brigadier general on September 3, 1861, commanding his brigade in North Carolina, then in Virginia. Anderson saw action at Mechanicsville, and Gaines' Mill. At White Oak Swamp, he was wounded in June of 1862. Less than a month later, he resigned his commission and returned to supervising the Tredegar Factory. The factory became increasingly productive, held back only by the South's inability to develop enough natural resources to sustain production. After the fall of Richmond, Tredegar was confiscated by federal government authorities, but was released by 1867, with Anderson back in leadership as a prominent Virginia businessman. Anderson died on September 7, 1892, at the Isles of Shoals, NH.