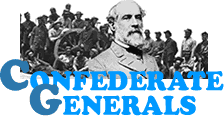 GENERAL EDWARD PORTER ALEXANDER, CSA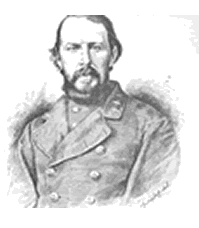 VITAL STATISTICS
BORN: 1835 in Washington, GA
DIED: 1910 in Savannah, GA
CAMPAIGNS: First Bull Run, Knoxville, Chancellorsville,
Gettysburg, Spotsylvania, Cold Harbor and Crater.
HIGHEST RANK ACHIEVED: Brigadier General.
BIOGRAPHY
Born on May 26, 1835, Alexander graduated third in his class at West Point, a gifted engineer and artillerist, and fought briefly in the U.S. Army's Utah Expedition of 1858. In 1859, he joined Albert J. Myer in developing the "wigwag" communications system, waving flags by day and torches by night to transmit military messages. In 1861, Alexander resigned from the U.S. Army and joined the Confederate Army. At the First Battle of Bull Run, he served as signal officer attached to General P. G. T. Beauregard's staff. His friend Myer was fighting on the Union side, and Alexander used the "wigwag" system they had developed to warn Confederate troops of Union movements. Before being promoted to the rank of brigadier general, Alexander fought in Lt. Gen. Thomas J. "Stonewall" Jackson's Chancellorsville operations, acted as Gen. James Longstreet's chief of artillery, and participated in the Battle of Gettysburg and the Siege of Knoxville. In 1864, he received his promotion, one of only three Confederate generals in the artillery service. Later, Alexander fought in the Battles of Spotsylvania and Cold Harbor, was seriously wounded in the Battle of Crater, and participated in other operations before marching with Virginia troops to Appomattox. After surrendering, he was paroled. After the war, Alexander continued his engineering activities, becoming prominent in the railroad industry as well as academia. He held small public offices before he died in Savannah, Georgia, on April 28, 1910.