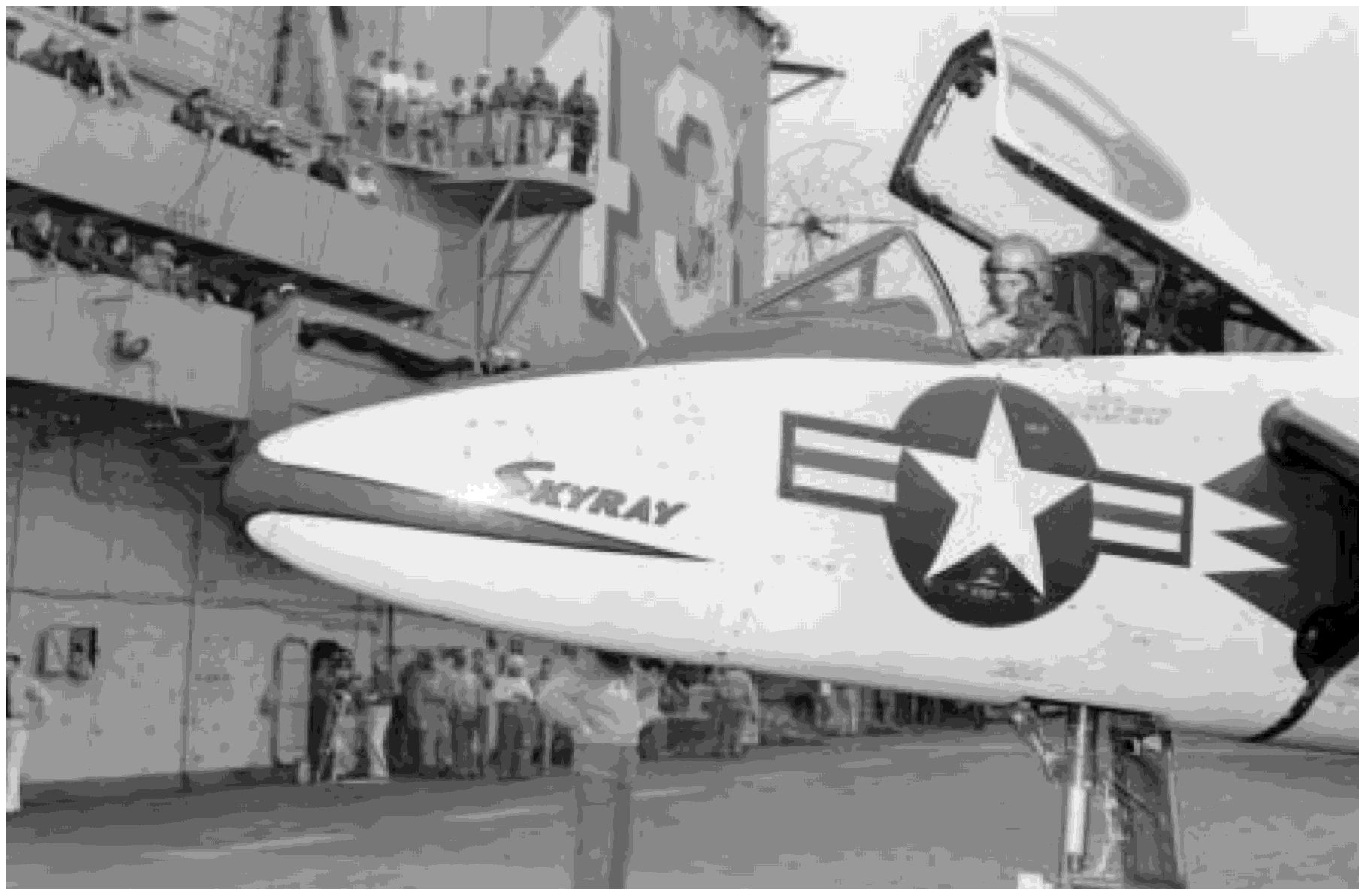 198
UNITED STATES NAVAL AVIATION 1910-1995
1953-Contin ued
2 September Project 110, a conversion plan for
Midway-class carriers, was promulgated. Basic
changes were the same as those for the angled-deck
version of Project 27C but with the addition of a modi-
fied C-ll steam catapult in the angled-deck area.
11 September In its first successful interception, a
Sidewinder air-to-air missile, test fired at the Naval
Ordnance Test Station, Inyokern, Calif., sent an F6F
drone down in flames.
1 October Hornet completed conversion at the New
York Naval Shipyard; the last of nine Essex class carri-
ers modernized under Project 27 A.
3 October A new official world speed record of
752.943 mph over a 3-kilometer course was set by
the F4D Skyray at Muroc, Calif. Piloted by Lieutenant
Commander James F. Verdin, this was the first carrier
aircraft to establish this record in its normal combat
configuration.
16 October A Douglas F4D-l carrier fighter, flown
by test pilot R. O. Rahn, broke the 100-kilometer
closed course speed record at 728.114 mph.
19 November The Chief of Naval Operations en-
dorsed the common utilization of the Fleet Air Gun-
nery Unit by the Pacific and Atlantic Fleets and the
Marine Corps "as a step towards increased emphasis
and standardization in the combat employment of air-
craft armament."
3 December The Steam Catapult Facility, NAMC,
Philadelphia, Pa., was established by Hon. James H.
Smith, Assistant Secretary of the Navy for Air, with the
launching of F9F and AD aircraft.
3 December The first successful test of super circu-
lation (boundary layer control) on a high-speed air-
plane, an F9F-4 Panther, took place at the Grumman
Aircraft Corporation field at Bethpage, Long Island,
N.Y. John Attinello, a BuAer engineer, was credited
with developing this practical application of the aero-
dynamic principle.
19 December The Navy and Bureau of Standards
announced that under a joint project with the code
name "Tinkertoy" methods had been developed for
the automatic manufacture of electronics equipment
and that a sonobuoy assembled by this method was in
production. Tinkertoy was a technique for utilizing
automatic machinery to attach basic electronic compo-
nents to ceramic wafers and to build the wafers up
into modules which could be readily assembled into
complete units. Its importance at the time was viewed
as breaking an electronics production bottleneck. In a
broader view it was a step towards the development
of microelectronics and solid state circuitry.
Speedster Verdin
in Skyray 630092
| | | |
| --- | --- | --- |
| | 16 | |